How Bank of the West's Purposeful Messaging Paid Off
When a brand blends in with every other brand in the market, how can customers be expected to tell the difference?
That's been the challenge placed before Ben Stuart, Chief Marketing and Communications Officer for Bank of the West. Stuart's role pushes him to transform the organization into one that will not only be different in its category—but one committed to making a difference.

Upon his arrival at Bank of the West, Ben accurately judged it to be utterly undifferentiated from its competition. Ben's first thought was, "What are we going to do here, other than just execute a little bit better?" But just nine days into the job, he learned something transformative: Bank of the West didn't finance fracking, Arctic drilling, or coal-fired power plants or even tobacco.

That's when Ben realized, "This is a fundamentally different bank than I thought it was."


Taking a serious stand with a sustainable brand
Following extensive research into different approaches to brand positioning, it was clear that there was an opportunity for a bank that stood for sustainability. And responsible finance was incredibly different than anything else that was being talked about in the marketplace.

"Importantly, our sustainable idea was, and is, incredibly motivating," Ben says, "particularly among younger folks who are looking at their own personal supply chain. And most people don't think of their bank as their personal supply chain."

But Bank of the West is hoping to change that thinking. After all, when you put your money in a bank, it doesn't just sit there. It actually goes out in the world and finances things, things you might support and things you might not. Bank of the West's argument is, you should care about what your money does.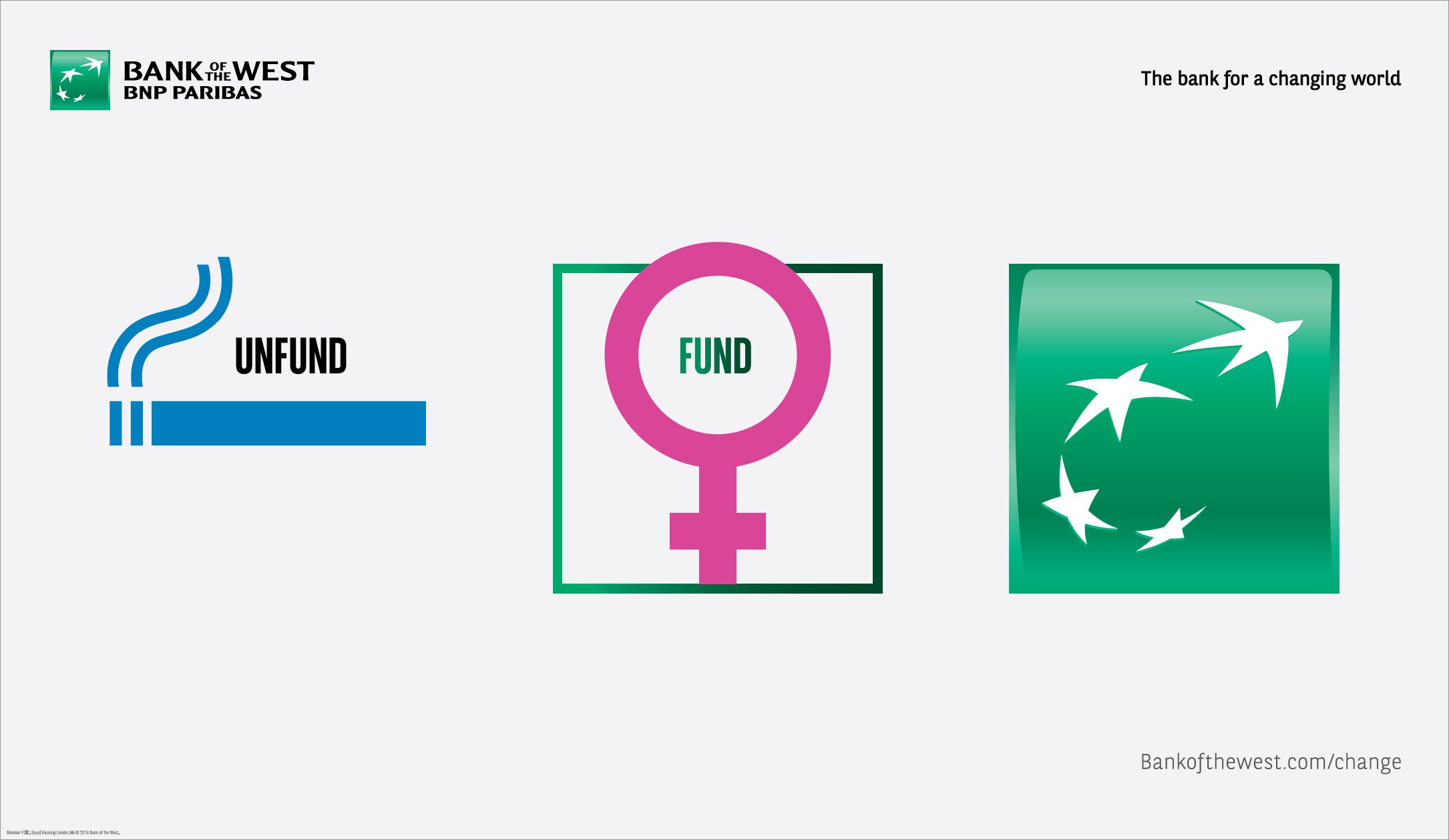 Putting your money where your mouth is
For Bank of the West, their "sustainable" position revolved around taking a stance and backing it up with meaningful action. As a brand, they had the courage to put a stake in the ground to make people believe that what they stood for was serious. And it took courage.

As Ben remembers, "It was not like we just said we don't support these businesses and that was it. We actually had to call fracking companies, coal-mining companies and petroleum companies across the U.S. and say, 'We're not going to bank you anymore.'"
In rolling out Bank of the West's "What on Earth?" purpose-driven marketing campaign, the first thing they did was turn everything over to a digital media buy augmented with outdoor placements in cities. And how did the business respond? Wherever Bank of the West entered the market, their business went up 30% with new customers.

In one interesting turn, the City of West Hollywood moved their entire banking relationship to Bank of the West, based on fossil fuel policies alone. Ben also tells of small business owners entering their branches and saying, "Since you don't finance tobacco, I'm opening an account."

As their tagline states, Bank of the West is emerging as "The bank for a changing world."

According to Ben, "I'm not a big believer in brand value. I am a big believer in brand behavior. Values are vague. Behavior is specific."

Bank of the West launched their new 1% for the Planet account, the first checking account designed for climate action. As the only major bank that's a member of four key environmental groups—Protect Our Winters, 1% For The Planet, Sustainable Ocean Alliance, The Conservation Alliance—Bank of the West believes the money you put into the bank can help protect the environment and invest in a sustainable future.

And there's more to come. "What's next I believe is everything," Ben says. "We're about two years into a 10-year journey to shift the culture of the company."

There's an enormous audience eager to participate with marketers who are making a difference in these changing—and challenging—times. Mindful consumers want to hear relevant messaging from the brands they engage with: purposeful messaging that speaks to the common good is resonating more than ever.

At McGuffin Creative Group, we believe there is great opportunity in allowing brands to be different, to follow their purpose and let the world know about it. In the old way of thinking, brands stayed neutral. Not so anymore. Today, brands need to have a point of view. Consumers want to know what a brand stands for. Purpose-driven brands that have a story to tell and brands that take action—putting their money where their mouths are—stand to gain much

The lesson: Be different. Be meaningful. Be purposeful. If it's good for the planet and our fellow human beings, it may very well be good for the marketer.

Note: Content repurposed from a McGuffin Creative Group blog detailing a McGuffin Mornings presentation from Ben Stuart and Drew Neisser, founder & CEO of Renegade, a NYC-based strategic B2B boutique. McGuffin Mornings cover topics focused on trends and insights in marketing, advertising and creative, serving as a forum for savvy marketers to connect and sharpen skills in our rapidly changing industry. Disclosure: McGuffin Creative Group and Bank of the West have a client/partner relationship.